Dance Studio
Coaching Social Dancers
Try a lesson with one of our local instructors or with Country Worlds Championship winner Shawn Swaithes (Sways) , who joins us from Orlando, Florida every 4 to 6 weeks.
Many forms of dance are taught here: Country, Swing, Ballroom & Line dancing to mention a few. Lessons range in price from $35 - $95. There's never any need to buy a package. No pressure, just lots of fun and learning. Call 614-578-3444 to schedule lessons.
Coaching Competition Dancers
Shawn's local competition students (left to right) Linda Powell, Sallie Debolt & Mickie Jones.
Shawn Swaithes coaches, judges and performs all over the globe and has coached many clients to World Championship titles of their own.
If you'd like to compete in ballroom or swing we can introduce you to appropriate instructors.
Studio Available for Rental
We are doing our best to provide the perfect place for your dance lessons or practice sessions as well as meetings and parties. The raised (easier on legs & feet) wooden floor is approximately 1600 sq. ft.
The studio may be rented for $10 an hour for private lessons or practice, $25 an hour for small groups. To view the studio please make an appointment by calling 614-578-3444.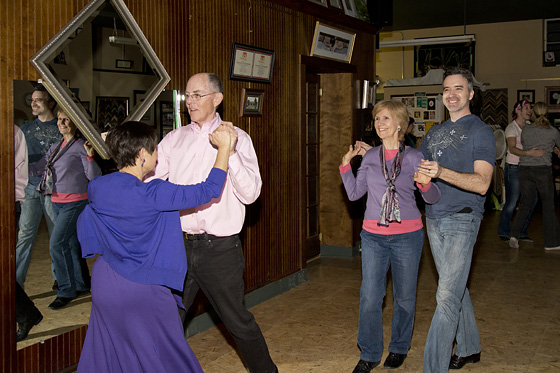 Sunbury Dance Club
Join one of the nicest, most fun loving groups of dancers around. No partner is necessary. There are often workshops or practice sessions before the dances. Please check the calendar for dates and join our email list for updates on the events happening here at Lindas3. To join the email list send an email to linda@lindas3.com.
Through the National FastDance Association, our club dance activities are properly and legally licensed by: